Mystery and sacrum
After the flower carpets are laid, there is not much time left to prepare for the main Mass and the procession in honour of the Most Holy Body and Blood, which are the culmination of the parishioners' hard work. Many are part of the parish assistants, the local brass band, and the volunteer fire brigade. At 5 pm, the solemn Mass begins, followed by a procession with the Blessed Sacrament to four altars set up along the route. Behind the cross, an assisting group, dressed in regional Sieradz costumes, presents religious emblems and images on banners and procession floats. The girls, starting from the youngest ones, are distributing flower petals in front of the Blessed Sacrament. The uniqueness of the Spycimierz procession is also manifested in the fact that only here the priest with the monstrance, followed by the rest of the participants along the entire route, walks on the carpet of flowers.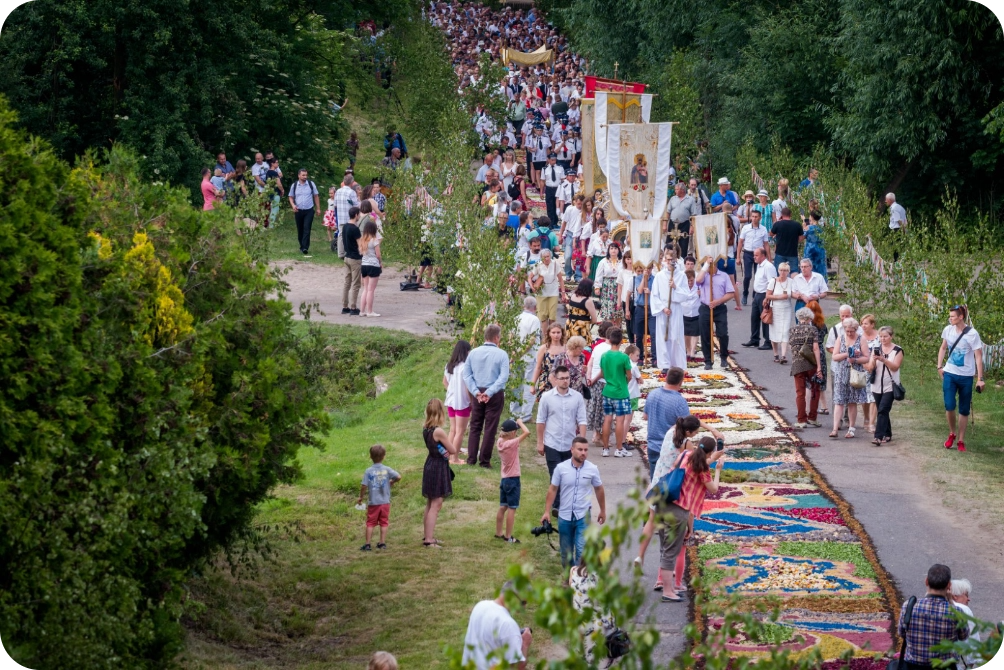 Tradition as a magnet
The procession in Spycimierz near Uniejów attracts more and more people every year. The news is passed on to distant places. It is captured by tourists and pilgrims, journalists, photojournalists, photographers, and also by television, which broadcasts fragments of the procession and decorations on a national programme.
The parishioners of Spycimierz are proud of their tradition. They do not mind the difficulty of preparing the ceremony. They are happy that in this form they can confess their faith in God, pay Him due honour, and show their love.